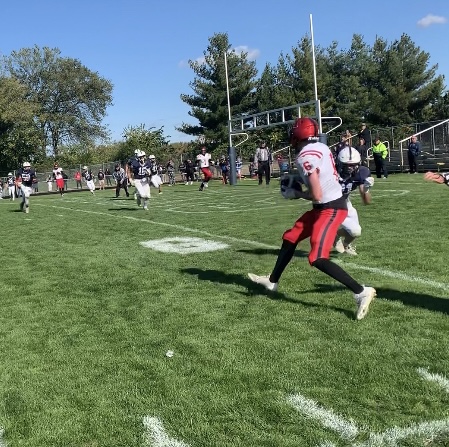 Baseball is a game of the mind. Basketball is a game of height. Football is a game of inches. 
The Trojans battled the Red Raiders of Huntley all the way to the final whistle, with a touchdown throw by Huntley QB Braylon Bower to WR Jake Witt making it a one-point game, at 28-27, with no time left. 
A two-point conversion for the win was another pass, Bower to Witt again, the ensuing lunge to the end zone by Witt giving the Raiders their 6th win of 2023. 
"Really wanted to win, so we're just disappointed in that," Coach Seaburg said. 
Cary-Grove's offense scored half of their four touchdowns in the first half and the other half in the second two frames, with the biggest coming from Andrew Prio, a 57-yard scamper, to give the Trojans a 21-14 lead in the third. 
Coach Seaburg applauded their efficient performance to keep Huntley's offense pressured to respond, as the game kept pressing onward.
"We moved the ball, just made a couple mistakes at some key times," he said.
On the other side, the defense executed two crucial fourth down stops to halt strong Red Raiders drives, which led to the battle between two great FVC teams going down like it did. 
"Fought hard, tried to make some plays at some key times," Coach Seaburg said. 
However, there is a sense that this game was the Trojans' to lose, with Cary-Grove up 28-14 as the fourth quarter got started. 
"Felt like we had things in control, and let this one slip away," Coach Seaburg stated. "Huntley was able to make some plays." 
All in all, the Trojans really made this game close against a stingy Red Raiders squad, and Coach Seaburg aims to move to the next day and keep improving as CG prepares for the Gators of Crystal Lake South. 
"We wanna keep moving forward and keep getting better," he said. "Conference now is looking like it's out of our hands, but we wanna look forward to the playoffs and see what we can do."