Historic 18-year playoff run ends for Trojan football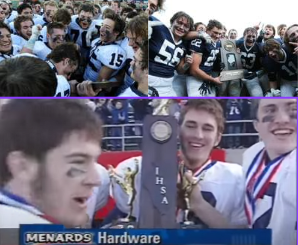 Eighteen years of making the playoffs. Not five, not 10, not 15. Eighteen. 
Essentially, the Trojans football team made the playoffs for two straight decades. 
Freshman walking in the doors of CG from 2004-2016 were met with at least one additional football game every year of their high school experience. 
Seventeen graduating classes were able to witness playoff football in their senior year, with the lone exception of 18 being the class of 2021 due to COVID. 
If you are a current CG student, the Trojans have never missed the playoffs in your lifetime.
On average, every six years, CG football captured a state championship, and every three years, appeared in a state championship game. 
Many, many players on Cary-Grove came and went, but the head coach was pretty much a constant throughout the 18 year run. 
Only one coaching change was made, and that switch was from legendary coach Bruce Kay to another legendary coach in Brad Seaburg. 
The former started the glorious streak in 2004 with a state appearance against Libertyville, losing 13-3, and he built up his squad's success all the way to the team's first-ever state title in 2009 over Providence Catholic, winning 34-17. 
He kept the success rolling throughout his final two years as head coach for the Trojans, and he left the school on a high note. 
As for the current coach, Brad Seaburg, he led CG to a state appearance in his first season at the helm in 2012, losing to Crete-Monee 33-26. 
Seaburg brought the Trojans back to state two years later, losing to the same foe from 2009, Providence Catholic. 
Cary-Grove went back once again in 2018, getting the better of Crete-Monee this time around in a 35-13 blowout win, clinching the second state title for CG. 
Even though COVID pressed the pause button on the Trojans' full-season success for a year in 2020, CG went back to state a season later, winning a thrilling 37-36 game over East St. Louis on the campus of Northern Illinois University in DeKalb.
Coming into this season, the expectations were high. Even with the previous year's entire offense graduating, the talk of making the playoffs was still floating around. 
A 19th straight playoff appearance seemed like a good possibility. As the saying goes, however, all good things must come to an end. 
A 3-1 start after rattling off consecutive wins over Crystal Lake Central and McHenry became a 3-5 skid after eight weeks, with losses to Prairie Ridge, Huntley, Jacobs, and Burlington Central, in that order. 
Half of those four losses were one-score affairs, the second as the clock ticked down to triple zeros, the latest in overtime. 
In a season that has been historic, in more ways than one, a lack of competitiveness has certainly not been there. 
"Our kids fought to the end," Coach Seaburg said. "Just didn't make enough plays throughout the course of the game, into overtime. It certainly was not for our kids not wanting it or putting their best effort." 
Of course, Coach Seaburg was talking about the game against Burlington Central, but really, if you remove the overtime part of this nugget, he was mentioning the whole season. 
The team just didn't make enough plays to win more games, and surely, everyone wanted to win, and they battled like it, week after week. 
It unfortunately didn't work out. 
Speaking of plays, the running game, as usual, took center stage against BC, with the season debut of junior Jack Rocen resulting in big runs and a game-tying touchdown in the third quarter from 43 yards out. 
"[He] came in and did a great job. He got some tough yards, broke off a long run," Coach Seaburg said. "We're excited about what he did." 
The 18 years of overcoming hurdles and making the playoffs, to Coach Seaburg, were due to a lot of positive factors. 
"First and foremost, we've got lots of talent and we've had a lot of kids come through that are committed," he said. "We've, generally speaking, stayed pretty healthy throughout the course of that run.
"When you have consistency and coaching, you have consistency and kids, and their efforts and dedication to the program, good things happen. We've really shown that, and we're just hoping to get a win this Friday [against Hampshire], and then hopefully get to work on starting another [streak]." 
That work will almost certainly start at the quarterback position, but when asked about Peyton Seaburg and what he wants to see from him on Friday and moving forward, Coach Seaburg talked instead about the team. 
Rightfully so, because, well, team football is what won all of their state titles and granted many years of success, especially that one game in DeKalb. 
"I want all of our kids to try their hardest and do the best they can," Coach Seaburg said.
This simple answer may become the origin of new success down the line, and it's because of how team-oriented Cary-Grove has been in not only football, but also other sports. 
Just take a look at all of the trophies in the trophy cases that line the CG halls. "Team first" surely has brought home a lot of hardware. 
Trojans offensive line coach Mike Manning echoes Coach Seaburg's statements, and it seems that not only do the players have a team-first mentality, but the coaches do, too, with the same focus and common target to bullseye. 
"Everyone works incredibly hard towards that common goal," Coach Manning said. "A lot of kids make a lot of sacrifices for the good of the team, and that's just fun to be a part of when you've got so many people working towards that.
"[I'm] pretty proud of the accomplishment. [I] enjoyed working with the coaches on a daily basis, [and] loved working with the kids over the 18 years. 
"A lot of great kids have put in a lot of time and effort and energy, as well as the coaches have into the program. I'm just proud to be a part of it."
A dogfight type of season in 2022 for Trojans football didn't produce a playoff appearance, but it did produce a great lesson for the future players coming into CG that their work, their fight, and their willingness to never give up will pay off.
Additionally, they could be the facilitators that create a new string of winning. However long it goes, we don't know. We do know that their success will add on to this amazing run we were all able to witness. 
(Writer's note: I want to thank all of you who have read my articles throughout the first two years involving Trojans football, which have been the most historic in our school's history. It has been such a great experience to not only be able to learn new ways to enhance my writing skills from my freshman year to my sophomore year, but to be the storyteller of the two most historic seasons of football at CG all-time. 
This next year is going to be a big one for me, as I may start writing for the Northwest Herald as well as possibly *host* the CG Football Show. 
No matter where I go next, I will still be roaming the CG sidelines as always, doing what I can to bring the best stories to the table, week after week, to the most important part of all of these doors that are opening for me, which is the fans. You. 
If I didn't have the many people who follow Trojan football weekly, including my loving and supporting parents, my writing would not have a purpose, a reason for being on The Trojan Times. 
I also wouldn't be striving to do some big things in high school, like writing for the Northwest Herald as a junior. 
I'm looking forward to talking to all of you again at the start of my third year of four at Cary-Grove, and my parting thought is a simple but strong one: 
GOOOOOO TROJANS!)