CG overcomes early deficit in opening win over DC
"When you play in the Fox Valley Conference, every game is a challenge," Head Coach Brad Seaburg said postgame.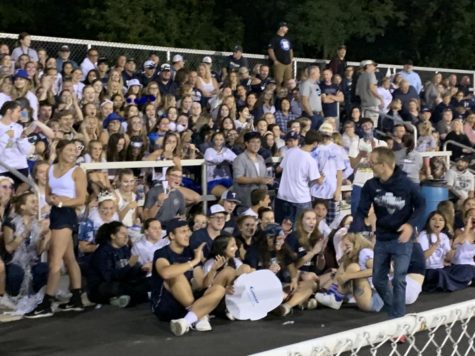 The Dundee-Crown Chargers certainly presented a big challenge for the Trojans early on in their battle Friday night. 
The Chargers took an early 7-0 lead after one quarter, but the Trojans took the opening game of 2022 by a final of 41-21 because of how Coach Seaburg's players countered their slow start. 
"Our kids responded well," Coach Seaburg said. 
"Defense wins championships" is a famous saying in sports. It really should be "Defense wins momentum" as the Cary-Grove D produced a big fourth-down stop early in the second quarter, while down and with their backs against the wall, to silence Dundee-Crown's blazing-quick exposition. 
As a result, the Trojans offense was given some positive energy they used well. 
"[Those plays] made a difference in the course of the game, for sure," Coach Seaburg said. 
Cary-Grove used the fourth-down stop and the touchdown score after-the-fact to help them go into halftime up 20-7. 
As for halftime itself, the superfans and the fun they created led to the guys on the field creating their own fun, an opening-play touchdown to start the second half. 
"Having that score (was awesome)," Coach Seaburg said. 
Coach Seaburg cited the "big plays' ' executed by the Trojans' two lead ball-carriers, Colin Desmet and Andrew Prio, as the reason the coaching staff rotated them drive after drive. 
"Sometimes it was the quarterback making reads, sometimes he was handing the ball off. Colin and Andrew did a great job of taking advantage of having the ball in their hands." 
Rotation was not only present in the backfield, but under center as well, with quarterbacks Peyton Seaburg and Gavin Henriques sharing duties throughout the game.
"Both guys played pretty well in camp, and we were playing both," Coach Seaburg stated. 
Overall, it was a solid game in all three phases, but Coach Seaburg knows his group has more work to do to keep thriving against the always tough-to-beat Fox Valley Conference. 
"We're going to continually just work on getting better. The team that you see week one will be different then the team you see week two, week three, and so-on."