Buddies b-ball brings March Madness to CG with state trip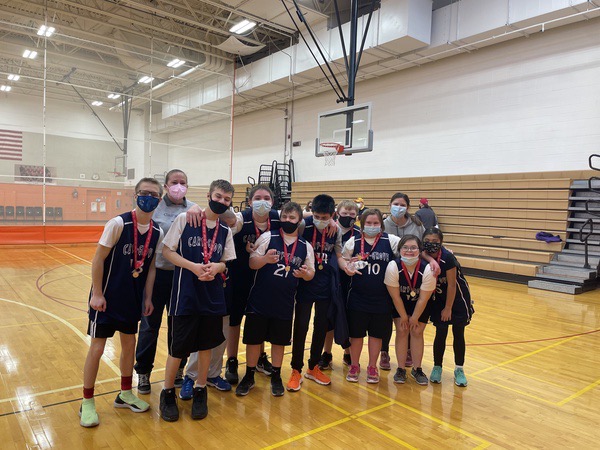 Let's get nostalgic. Do you remember that time that you were watching March Madness some years ago and heard that special, timeless, CBS March Madness song ring like it was stuck on repeat? Every. Single. Game? 
Ok. Good to know. 
Now, I ask you this: 
How does it sound to hear that song and remember all those memories, double the amount you usually do? 
Sounds good, doesn't it? 
Leave it to our very own CG Buddies Basketball team to provide that double-dip by securing our school's fourth state berth this school year. 
First, it was our dominant football team, winning 14 games and engaging in a thrilling battle to bring the IHSA Class 6A Football championship home. 
Now, after the CG Buddies brought home a regional championship, they will be looking to capture another state title for our school less than five months later. 
More statebound teams from other sports at CG have been added – the wrestling team and gymnastics team – so stay tuned to find out which state title the Buddies will be looking to bring home in 2021-22. 
Anyway, the journey to a possible state title runs through Bloomington-Normal, Illinois, from March 11-13. Families that look to go down south to watch their kids play for all the glory will be instructed to stay in a hotel for two nights, as the tournament runs through consecutive days. 
Here is some insight and words from the coaches and players who are involved with this team: 
When asked about how they feel to get to state, the squad feels "good" about it. 
Practice makes perfect, they say, and Tyler Modrzejewski agrees. 
"We've been practicing, working hard since back in gym, probably in October," he said. 
Improvement also comes from practice, and Modrzejewski thinks he and his team have improved on their discipline, playing smart, and trying to do what they can to give themselves opportunities to win. 
"We have improved on how we act, trying to block the opponent's shots," he stated. 
Ghovanni Campos stated that "teamwork" is something he and his team have improved on as well. 
Another thing they said to have improved on is dribbling and not traveling, which is pretty important in order to avoid violations and turnovers. Lastly, they said they have improved on shooting from the "inside," or not behind the three-point line. 
"It's pretty exciting," said Mrs. Tammy Jauch, one of the Buddies coaches, of the state trip. "Obviously we're very new to this, so we're just trying to figure out what that means, and getting these guys prepared for state."
Ms. Jauch feels that the teams' fans will play a big role in their success in state.
"They definitely step it up a notch when they've got people to cheer them on. It's important that our parents get to see their students being able to play outside just their local high school," she said. 
Emily Schnake, the other coach leading the team, agrees with the importance of fan support.
"One thing that's been neat this season is seeing all their extended family getting to come watch," Schnake said. "These guys don't always get to perform in sports a lot, and this has given them the opportunity to get to show their grandparents, aunts and uncles, and cousins, how much fun they can have on the basketball court, and how hard they work."
Overall, the team is excited for their opportunity, very happy with how they have done and for being able to be in the state tournament, and ready to show what they can do.
GOOOOOO TROJANS!