CG runs circles around Rockford in week 1 playoff blowout
"Run, Barry. Run."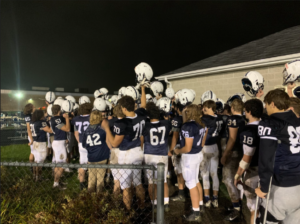 This inspirational quote from the CW show The Flash highlights not only Barry Allen's need to run for the sake of citizens and the world but also the game plan for the Cary-Grove varsity football team. 
Their sprint through their regular season and their too-quick-to-catch start to the playoffs are reminiscent of the many sprinting, running, and overall skipping-through-time heroes chronicled in the comics back then. 
The Trojans channeled their inner speed demons in the first quarter, racing out to a 27-0 advantage after 12 minutes. They slowed the pace considerably in the second quarter, notching their final 14 points in a 41-8 blowout of the class 6A 16-seed. 
With a massive lead in hand, they slowed to a jog throughout their scoreless second half, using their reliable run game to drain the clock and keep Rockford East away from any comeback opportunity.
"It was good that we were able to take care of the ball for the most part, and then really execute our running game," Head Coach Brad Seaburg said. 
Beyond the running game, the team as a whole kept their feet on the gas pedal for the duration of the game. 
The defense that has played great all year came up with a couple of fumble recoveries, interceptions, and many overall great plays and stops to complement the efficiency of the ground attack. 
"We just played great right from the start," Coach Seaburg said. "(Our) guys played hard, (were) physical, [forced some] turnovers, and were able to take advantage of some pretty good opportunities."
The playoff angel can only give away so many special presents, so Coach Seaburg is pretty standard on how he wants his team to get better and succeed as much as humanly possible throughout the postseason. 
"The biggest thing is [that] you win," he said. "We're just hoping that each week we can get better at every phase of the game. Hopefully, we can win and just continue to extend our season."
How far Cary-Grove will take their run at 6A football glory is unknown.
Here is something that is known, however. 
Cary-Grove takes on nine-seed Grayslake Central (8-2, 5-2 Inter-Conference) at their house on Friday at 7 p.m. 
The next test for Cary-Grove's season awaits. We will see whether or not the Trojans pass with flying colors.