"Time to start a new one" — win streak ends at 17
The Cary-Grove Trojans football team has never been one to dwell on the past. Instead, they like to use their biggest wins and lowest losses both as the determination moving forward. 
That's why after Friday's 21-14 loss, the first since 2017 and the end to a 17-game, multi-season win streak, Head Coach Brad Seaburg had this to say:
"Time to start a new one."
He saw no other option but to admire the consistency, right the wrongs, and start the whole process again from square one. 
Those wrongs to be corrected came in the form of a one-touchdown loss to the Huntley Red Raiders, in which the defense allowed 21 points — the highest total of the season by far from a consistently stellar defense. 
The Trojans scored first and had a 14-7 lead at half, but a sloppy second half full of multiple fumbles, punts, and missed opportunities led to a two-touchdown comeback. 
Comeback or not, the Raiders didn't have a perfect game, either. The Trojans defense got the ball back through forced fumbles on multiple situations, but the offense did not capitalize — something that came back to bite them.
"Our defense created a lot of turnovers," Coach Seaburg said. "We weren't able to score. We had a lot of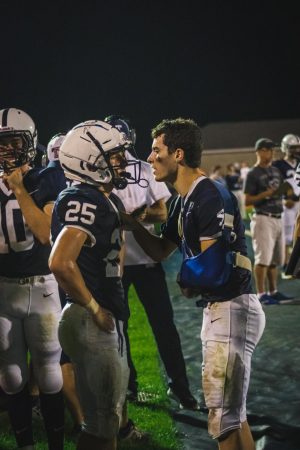 opportunities on offense to get something happening."
Part of those offensive troubles were a product of unfortunate injury. Early in the second quarter, starting QB senior Luke Eleftheriou went down with a shoulder injury, forcing the Trojans to put in sophomore Jameson Sheehan.
Sheehan played a decent second half as he started to ease into the spot, but was thrown into a bad situation against a great Huntley defense, and didn't have much success. 
After one last attempt for the Trojans offense resulted in a turnover on downs, Huntley kneed the ball to run out the clock and be the first team to come out victorious over Cary-Grove since Prairie Ridge in the 2017 6A state playoffs. 
Tradition holds on, however, as the Trojans still high-fived the fans along the crowded fence before going into the alumni building. There was a definite sadness in their faces, but to many, such as senior tight end Nathan Desmet, being in the program for four years has taught a lot about how a tough loss can benefit the team in the long run. 
"We will play better as a team," Desmet said. "This team has heart, and we will never go down without a fight."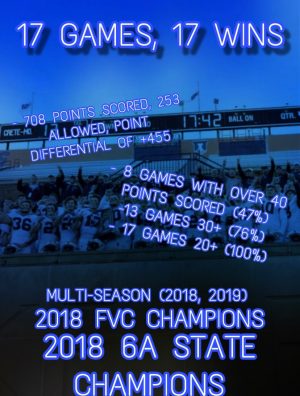 However, before they move on from the streak and start a new one with the knowledge learned from the last, take a second to consider how dominant the run was.
"It takes a lot of consistency from kids," Coach Seaburg said. "There's a lot of things that have to go right. It's a testament to our kids and our program."
At the same time Huntley beat C-G to put both teams at 3-1 on the season, McHenry won their third straight coming off a week-one loss and upset Jacobs 20-10, breaking Jacobs's undefeated start as well. Prairie Ridge bounced back from their Huntley loss and stomped Dundee Crown 56-0.
All of this created a five-way tie for first place in the conference, and half of these teams haven't even played one another yet.
C-G, for example, plays 0-4 Dundee Crown this Friday, and then gets to the hardest stretch in their schedule: McHenry, Jacobs, and then Prairie Ridge — three of the five currently tied at 3-1. If there's any time to prove they learned from the Huntley loss, it's now.
When Coach Seaburg said the next step is to start a new streak, he wasn't kidding. You don't make the playoffs 15 seasons straight by blowing off present losses and focusing on past successes. Nothing is gained. 
Instead, you start it back up again, learn from it, admire the consistency, and take it one week at a time — no different from the weeks during the win streak.
Scoring 700+ points over 17 wins is incredibly impressive, and it will forever be remembered as one of the highlights of the already bright last two decades of Trojans football. But the games don't stop just because a streak is over, just because of one loss. When you're one team in a five-way tie on top of your conference, there's no time to stop and mope — and the Trojans don't intend to do so.