Last-minute magic earns Trojans 9th seed
Every once in awhile, there are moments in sports that can make even the most unexcitable people shocked with pure disbelief and excitement. It's safe to assume that there were plenty of cases of this near the end of last Friday's away battle against Crystal Lake Central.
Going into this game, it was known it was going to be tough. As playoff-bound FVC teams, Cary-Grove and Crystal Lake Central both wanted this win badly for playoff seeding purposes.
Central came out to an early lead, going up 13-7 after one quarter. Just before halftime, a Trojan touchdown run in by QB Quinn Priester on a keeper tied the game at 21-21.
One of the Trojan's key issues this season has been kicking, but in this game, kicker Cooper Schmidt was awesome, making every PAT he attempted, which obviously ended up being very crucial to the Trojan win.
Not a single Trojan or Tiger fan stayed off their feet for long in the second half, as a TD apiece in the third quarter led to a tie game for most of the fourth. It was the Tiger fans, however, who had the first celebration. With the clock winding down at a pace faster than an actual tiger, Central marched down the field and completed a TD and PAT to go ahead 35-28 with only a little more than three minutes remaining.
It was those final minutes, Trojan ball, marching downfield as the clock continued to speed down, that really made everyone in attendance see how special of a game that night could turn into. Some, like myself, decided to get out their phones and film, hoping to catch something incredible that they could watch again for years to come.
Standing behind the end zone, I was able to capture a nice view of not only the final plays, but the atmosphere of this awesome game. Both sides of the field's fans were absolutely electric.
Here is the link to that video- https://www.youtube.com/watch?v=SV-LnCMCndk
In the first play shown, a Trojans 4th down, the CLC defense starts to celebrate, as they believe they just stopped the C-G offense from the first down and, due to the time being only seconds remaining, winning the game. The play, however, was called as it was once the refs got to the ball; Trojans first down. With no timeouts remaining for Coach Seaburg's team, Priester spiked the ball to make the clock stop. On second and goal, Max Buss leaped on top of the Trojans offensive linemen and got the ball over for a Trojans touchdown.
This, however, did not seal the deal for the Trojans. This is where the adrenaline and nerves went from high to ridiculous. Expecting to see the PAT unit head onto the field, the Trojan fans were preparing themselves to celebrate making it to an overtime, which would have been an outstanding achievement in itself, given the quick and clutch comeback they had all witnessed. But the team wasn't going to try for an overtime. They were going to go for two, and win the game right there.
History has told us that the triple option and running offense are basically synonyms to Cary-Grove football. However, while running has still been the high majority of the Trojan offense this season, having Priester as a QB and talented wideouts such as Ben Ferrell has allowed the coaching staff to call some clutch passing plays when needed most.
That is exactly what won this football game. Expecting the run, the tiger defense had no chance of getting to Ferrell, wide open in the corner of the end zone, catching a pass from Priester and sending the Trojans fans and players into pandemonium.
The scoreboard read 36-35, Cary-Grove wins, in what many older fans are calling one of the greatest C-G football moments ever.
As an assistant coach of Bruce Kay for ten years, and now in his seventh year as the head coach of C-G varsity football, Coach Seaburg has definitely seen a lot of Trojans football over the last seventeen years.
"Y'know, to get a win like that in the final minutes is exciting," he said. "It makes me excited for the players. To win at the end of the game, that's exciting as it gets."
As always, Coach Seaburg also said that the team should focus and be excited about that night's win, but they would be going right back to work Saturday morning.
Saturday night, the IHSA Twitter and a show on NBC Sports Chicago announced the brackets for the 2017 varsity football playoffs, class by class. C-G, a nine seed, and St. Ignatius, an eight seed, will face off in the first round of the 6A playoffs. This game will be held at St. Ignatius College Prep, in Chicago, on Friday.
Oddly enough, their new field is named after an alumni, my late great-uncle Anthony. Usually, I like to focus on the team and not myself when writing these reports. However, I couldn't help but mention that this week I will be writing for the Trojan Times at a place called "Fornelli Field."
For those wondering how the rest of the 6A bracket looks, here is the full thing (from the IHSA Twitter).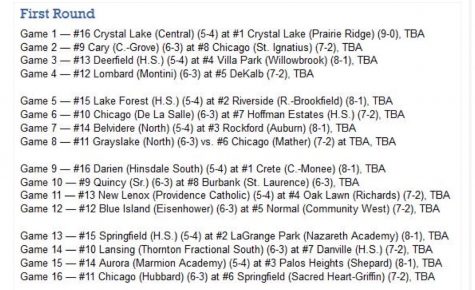 With fan buses already filling up, and school spirit higher than ever this week, Friday's first round matchup is sure to be very exciting for all of the Trojan fans and players.
Coach Seaburg says one thing he sees in this team that he's seen on other teams in the past is they "never stop fighting." That's why they won on Friday, and not one person should think for a second they won't bring that same mentality right into the playoffs.