POMS wonderful
The Cary-Grove Poms team have made it into the holy grail of Poms competitions: they are heading downstate. With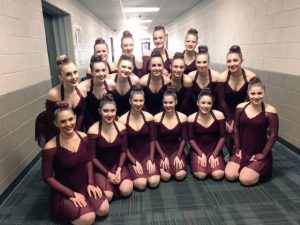 this push down south to Illinois State, the unified, strong, and determined team will set off to make us proud by heading down on Friday with both heads – and hearts – held up high in anticipation.  
Since the start of the season, with tryouts for the team dating all the way back to October 24, the new team coach, Mrs. Bachta, and all of the members of the team, ranging from all grades, has been pushing for this glorious day ever since they have started on their routines.
"Our team is super close and has been working extremely hard all year just to make it where we are right now," freshman Danielle Walters said of the varsity squad. "It's definitely going great."
Through the ups and (very few) downs, the team has been fighting – and overcoming – the competition by consistently getting amazing scores at meet after meet. From there, the team built up their appreciation for each other, making them feel more like a family. With this new bond, they came together and have formed a team that is surely one to be reckoned with.
"One thing I can say, it is my first year of coaching Cary-Grove, and, when I came in, I felt that the team was lacking confidence. But, with us hitting one of our highest scores ever, which was a 90, we came in 3rd in sectionals, and now the girls are feeling very confident and happy going into finals," Coach Bachta said.
Going forward with this increased confidence has made an impact on the team members individually as well, with previous wins showing this.
"At all of our competitions, we have always placed in the top half of the competition, with us being up against 26 different teams and us getting in the top five and even the top three in some cases," Coach Bachta said.
With these wins, now the team continues their hard practice schedule up into the weekend. At the competition, they are performing a lyrical routine that encompasses the feelings of "Rise Up" (which is appropriate, as the coach said herself, with the team being as successful as they have been).
With practice going all week long, the team is giving their all towards this performance. All of this practice is sure to pay off, as the team has been eager to perform it down at Illinois State, where the competition is held.
The hard work that the team has put in has led to impressive scores, and it also justifies the IHSA's decision four years ago to recognize Poms as a sport rather than an extracurricular activity. With that move, competitive dancers from all over the state have been finally recognized for their hard work, solidifying them – if they were not already – as talented athletes.
"I feel that they are now recognized as a sport — as they should — because of all of their hard work," Bachta said.
That recognition extends to all of Cary-Grove as we cheer on our Poms while they represent our school downstate.