Bursting into sectionals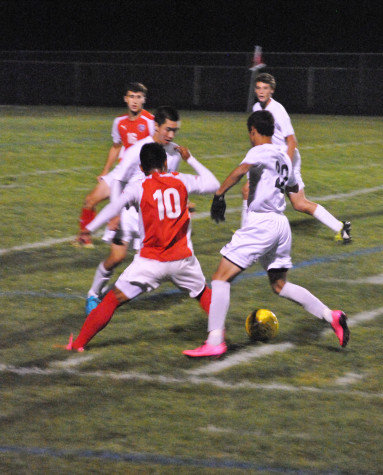 Under the lights on a Friday night, the boys soccer team faced off against Dundee-Crown in a homecoming match. They lost 3-1 that night, but it was evident to everyone in the stands that the team had potential for a postseason run. And now it is becoming a reality.
The Trojans went into the regional tournament in Dekalb as the number four seed after going through a tough couple of games and were ready for some wins. Even after losing the Dundee-Crown game, they seemed poised and ready to make a run deep into the postseason.
"We have had a few mishaps in conference," senior forward Michael Arenberg said. "However, I think we have really grown as a team and are trying to get better every day that we step out on to the field."
Arenberg has had a great final season so far including a shootout goal in the eventual victory over number one seed Crystal Lake South in the regional final on Saturday afternoon.  
The Trojans can add the thrilling victory on Saturday to plethora of other big highlights and moments from this season, including a game against Lakes in the Grant tournament where they had 20 consecutive passes.
"It's really fun to play together as a team like that," said senior forward Esteban Angeles, who has committed to play soccer at MCC next fall.
The seniors aren't the only ones who have stepped up this season. Sophomore midfielder Riley Conroy has come through in the clutch as well.  
It might be possible that some of the pregame rituals that Arenberg likes to do before every game have started to fuel the victories — literally.
"Every game I like to give Esteban the first bite of my power bar before eating the rest," Arenberg said.
Whether it is a power bar or another pre-game ritual that is helping the team compete with some of the state's best, one thing is clear: they fight to the last minute.
Off the field, the two seniors are also involved in many clubs at C-G. Arenberg is involved in Interact and Student Council and Angeles is the president of the Latino Leadership club. These seniors are not just leaders on the field, but also in the C-G community.
With arguably the biggest game of the season on Tuesday, the Trojans are ready to make the run continue and are willing to do anything it takes to come out on top after the 80th minute comes to a close.