Boys basketball gives back
On the 6th this month, the boys' basketball team all lent a helping hand to the Cary-Grove Food Pantry. The boys didn't do anything shy of incredible with a donation of 2,000 pounds of food.
 Senior Nick Barr, the event's organizer, was very pleased with how everything turned out, "I thought it was a great way to bring the program together…and ultimately help out families in need."
 The timing of the whole event seems perfect, too. The holiday season is a time where most people feel the need to give back, and the boys set a perfect example. Barr commented saying that he, "thought it would be a good thing to do for families in need. You make a direct impact, and you know the impact you're making, so it's nice to do it."
 This year is the second year that the boys have helped the Food Pantry, with Nick starting the participation last year. "I started this last year, and then carried it on this year. It was a lot easier [this year] because everything was set up, and I already had a relationship with the Food Pantry. I'm just hoping that another kid will carry it on", said Nick.
 As for carrying on the newfound tradition, Nick says that he wants other players to keep it going, seeing as he graduates this May. He's not worried, though. He says that he knows his "coach will help keep it going because he thinks highly of this, so he will definitely influence it to keep happening, but I'm sure that someone will step up."
 The Food Pantry was very grateful for what the boys did to help. They mentioned that the team's donation was one of the largest that they've received since May. "We appreciate the effort the boys have put into this", said the pantry's president Melody Stanko. "This has been a successful food drive and one of the largest [drives] we've had this year. More than 200 families visit the pantry each month. They're helping a lot of people!"
 As for his personal future, Barr says that he wants to stay involved after high school. "I think it's important to do stuff like this, so I definitely will. Especially around this time of year."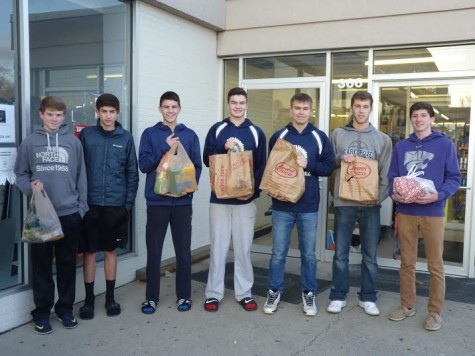 The team gave back in such a strong way,  donating over one ton of food, and continuing to have a positive impact.