Jack H. Krupp: From satire to stage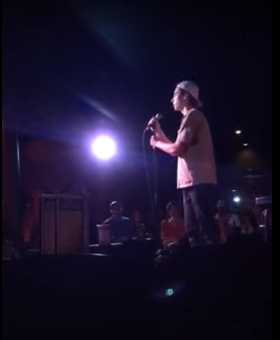 One of C-G's very own is on his way to stardom. The only problem is, it's a slow ride to fame and fortune, especially for an angsty teen trying to find the route in a cloud of comedic genius.
Known as Jack H. Krupp on stage, the C-G senior is on the rise as a stand-up comedian with well-written material about family, friends and teen adventures.
Krupp first had the idea of performing stand-up comedy after releasing a string of satire articles that gained popularity in the high school community. The most notable one satirized vaping teens. With the rise in his comedic popularity, Krupp sought out a new way of relaying his stories and feelings.
With this in mind, Krupp emailed over a dozen managers about performing a stand-up comedy act at their venues. At first there were no responses; however, he did not have high expectations to begin with, so he just kept blasting out emails.
Eventually, Krupp stroke gold. A manager at a venue in Milwaukee wanted him to perform a well-crafted, funny set for the audience. Off to the races, he began writing and rewriting a set that would hopefully bring to light his talent.
Unbeknownst to Krupp, the show he was about to perform was actually a stand-up comedy competition. After competing against eight other contestants he came out on top, obtaining a spot in an actual comedy show with a five-minute-long set.
Since then, Krupp has played two other shows, the most recent being a seven-minute set. All the shows were in Milwaukee, a lively city with a perfect setting for up-and-coming stars.
"It was absolutely worth the long drives out to Milwaukee," Krupp said. "I was just grateful for being offered the opportunity, and will stay grateful for any other opportunities I can get."
However, Krupp explained that he would like to be established more locally, hoping to make a name for himself in Chicago. Performing in Chicago could raise his profile as well as his earnings.
Krupp is picking up small amounts of money from the venues he has performed at. After placing first in a competition he received $25. Although small, it's a reminder that there is money to be made in the business.
Most of Krupp's material is based off of his own own personal experiences or stories he has been told, just obviously more exaggerated. Although his source material has been working for him at the shows, he wants to find new ground and explore more of a philosophical aspect of comedy.
"The real comedy then falls into observing the real world, and day to day life," Krupp said. As Krupp's material develops, so can his onstage persona and delivery.
"Jack is on the rise," said Evan Hart, Krupp's talent manager. "He has a few shows under his belt. The upside of this is that he has room to grow. As of right now, he seems unsure and lurchy on stage."
Krupp challenged this criticism, however.
"My stage persona IS unsure and lurchy, that's when I feel most comfortable," he said.
That comfortability is easier to achieve with the support of others. Krupp is most grateful for the support he has from friends and family.
"My friends and family are the reason for how I have performed on stage," he said. "It's really a boost of confidence having them out in the crowd at shows. Overall, it just feels good to have friends and family that actually care about what you're doing. Its really a passion I have never experienced before."
Unsure where his stand-up comedy career will take him, he has high hopes to integrate the things he has learned into possibly writing for a television show or even occasionally doing stand-up on television.
Already, Krupp has rubbed elbows with some established comedians. The second show he performed at was hosted by Collin Bullock, who has opened up for Nick Kroll in comedy shows. Krupp also performed with Steve Gillespie, a comedian from the Laugh Factory, which was recognized as the number one comedy club in the country by USA Today.
As of right now, Krupp is still learning, trying to master performing his own material onstage. Luckily for him, there are many opportunities presented when you are willing to put the work forth in mastering a talent.
Krupp has a gig to perform a thirty-minute set, far longer than any of the previous sets he has performed. While this gig will pay more than his previous ones, he describes the challenge of preparing for it as "daunting."
"However, when I'm up there I feel like I can talk for however long I want," he said. "It's just something I'm going to have to do. I'm looking forward to sitting down and writing a [killer] set."