Getka vs. Loch bracket beatdown: 'I would be ashamed to show this bracket to my mother'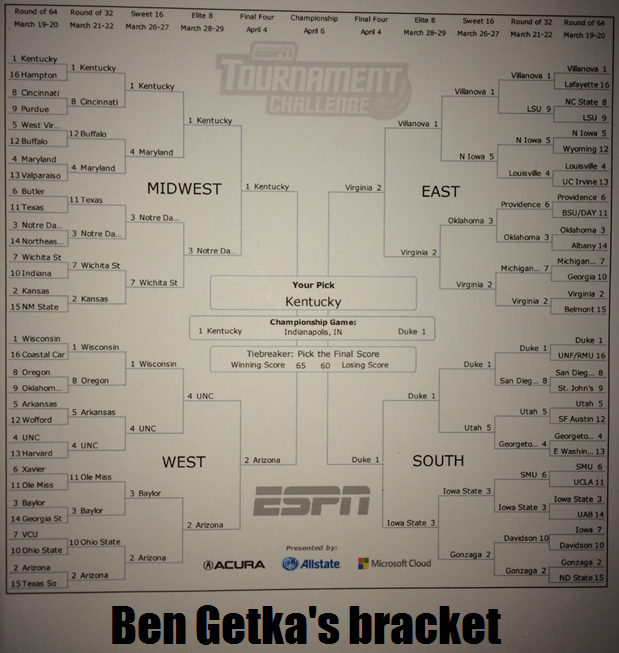 Adam's take on Ben:
Getka's bracket is respectable to say the most. I would be ashamed to show this to my mother.
Midwest: Having Wichita State in the sweet sixteen is a bold move. It will be tough for the Shockers to defeat a Kansas team that is playing their best basketball of the season. I just don't think Wichita State has the depth or the skill set to beat a veteran Jayhawk team. The "Battle for Kansas" will be won by the Jayhawks and star point guard Frank Mason III. No questions asked. His bracket won't take too big of a hit if Wichita State does lose because having Notre Dame defeating either team in the sweet sixteen is the smart decision.
West: Baylor, who busted a whole lot of brackets, had the same effect on Ben's bracket as well. Sadly, that is not the worst part of Ben's bracket in the West. Having North Carolina in the Elite 8 is a big mistake. While they might be a 4 seed, North Carolina has been struggling all year. They have yet to put a solid run together. It is going to be tough for the Tar Heels to get past Arkansas, but even if they do, there is no way they can take down Kaminsky and the Wisconsin Badgers. I'm sorry Ben, but being one of the most athletic teams in the tournament doesn't guarantee wins against fundamental teams such as Wisconsin. The team that leads the country in the least amount of turnovers per game, and the team that is second in the country in points allowed per game, beats an athletic team of North Carolina or Arizona any day.
East: Ben's east side of the bracket is his most solid of the four regions of the tournament. That is sarcasm, of course. Northern Iowa might have had one of the best records in the country this season, but they are not a sweet sixteen team by any means. The MVC is a weak conference, and I believe Northern Iowa is the most overrated team in the tournament. I would not be surprised with a first round loss. No hard feelings towards the MVC, but their run of Cinderella teams is over. Another team Ben overlooked was Louisville. Having tournament experience and one of the best power forwards in the country, they will run Northern Iowa out of the gym 9 times out of 10. Louisville is as good as they are while being the 351st ranked three-point-shooting team out of 352 teams in D1 basketball. When Louisville is hitting their shots, they can beat anyone in the country.
South: Iowa State. Another overrated Iowa team. I'm not quite sure why Ben has an obsession with all these Iowa teams. Iowa State in the Elite 8 is a joke, almost funnier than Northern Iowa in the Sweet Sixteen. But Iowa State has earned my respect, having made it to the Sweet Sixteen the previous year. If there is a Cinderella team in the making, it is Northern Iowa's opponent they play Friday in Wyoming. Wyoming knows how to share the ball and they are one of the top three-point-shooting teams in the country. Those two characteristics have been known to do wonders for teams in March.
Ben's take on Adam: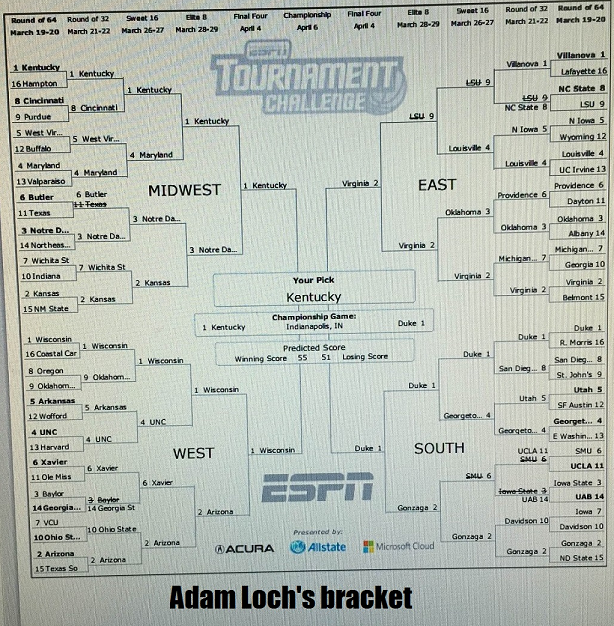 There's so much wrong with Adam's bracket that I don't even know where to start. First off, there is no way thatWisconsin makes it all the way to the Final Four. Wisconsin is too slow and unathletic to beat a fast-paced team like North Carolina or Arizona. The team's star player, Frank Kaminsky, will get overpowered and outplayed against the bigger, stronger post players of UNC and Zona (Kennedy Meeks and Kaleb Tarczewski). Wisconsin relies too much on three-point shots to win consistently in the tournament and keep on dancing. Sooner or later (by that I mean against UNC in the Sweet Sixteen), Wisconsin will go ice cold from beyond the arc and lose a game. Another selection of Adam's that I strongly disagree with is having LSU go all the way to Elite Eight, beating 1-seed Villanova along the way. Adam, I have a news flash for you: this is basketball, not football. No SEC basketball team not named Kentucky will make any noise in this year's tournament. LSU just doesn't have the firepower or the depth to knock off a team as talented and well-coached as Villanova and make a deep run. I believe that this will be the main downfall of his bracket. In the West Region, I think Adam severely overlooked a perennial powerhouse – Wichita State. In my own bracket, I have Wichita State upsetting the Jayhawks in what I have dubbed "The Battle for Kansas." Wichita State is too hard-nosed and experienced to not come out on top of the young, inconsistent Kansas team. Wichita State returns several starters from last season's team that finished the regular season with a perfect 34-0 record. Entering the tournament this year as a 7-seed and disappointed with last year's second round exit, Wichita State is looking for revenge. Even though Adam and I share 3 Final Four teams (Kentucky, Duke, and Virginia), I obviously still have a lot of beef with his bracket as a whole.