Lunch Hot Spot: Romanesco's Pizza
Food Type: Italian- Pizza and Pastas
Address: 103 N First St, Cary, IL
Total Travel Time: 6 minutes
Recommended Meal: One of their oversized individual slices of pizza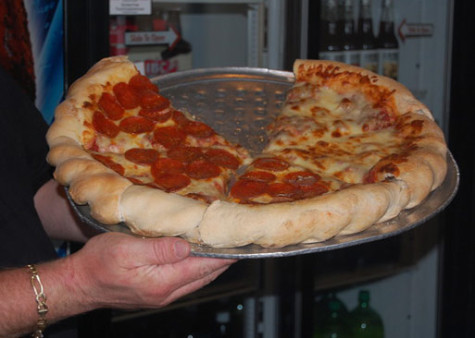 Price Range: $3.50+
Why Romanesco's: Romanesco's is in the same location of past pizza-making establishments– including Taylor Street Pizza. However,  while others have failed, Romanesco's has succeeded exponentially.
Their pizza-making process starts with dough made fresh daily. Then, they proceed to hand stretch the crust and then top it with fresh sauce, cheese, and any other topping they see fit.
Although to the high school crowds they are known primarily for their giant, delicious individual slices, they also offer Classic Thin Crust, Signature Double Dough, Deep Dish, Chicago Style, and Sicilian Stuffed Pizza. Atop of all these other choices, they also have their daily slice which changes, well, daily. Their pizza-of-the-day may be something savory like Barbeque Chicken, or even something sweet like a nice Hawaiian slice of pizza.
Not only does Romanesco's have great food at great prices, they also have coupons on their website offering free breadsticks, garlic bread, or a 2-Liter pop if you spend more than $10. So, take some friends and make it a fun lunch period, because any way you spin it, a quick trip down First Street for a lunch at Romanescos is sure to be a hit any day of the week.