Poets rock the mic at third CG Writer's Day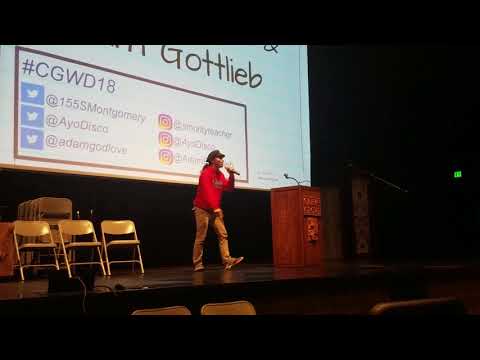 "I am living poetry."
Four powerful words boomed out of the mic, ringing through Cary-Grove's auditorium as one of the many talented student performers stepped down from the stage.
For the third year in a row, Cary Grove Writers' Day, an entire day dedicated to literature and creative writing, allowed students and faculty to share their work on stage. Performers were accompanied by professional poets Corey Dillard and Adam Gottlieb, as well as authors Stacey Kade and Wendy Brant.
All 21 Cary-Grove performers, four faculty and 17 students, blew the audience away with powerful performances that included stories of victims of gun violence, spoken-word poetry, and an original song performed by the CG Jazz Choir.
The readings were diverse, including poetry about what life may be like as a turtle, nerd revolutions, sexism, and society today, which made sure there was never a dull moment in the crowd.
These gifted performers made the audience laugh, smile, and cling onto every word they spoke. They displayed a wide variety of talent throughout the day as they continued to surprise the crowd.  
When the participants were not performing or listening to others, they were encouraged to take part in Writer's Workshop– a two-period session dedicated to creating poetry.
Hosts Dillard and Gotlieb taught students the value in self expression through spoken word. They focused on identity, overcoming writer's block, and other helpful writing tips as they demonstrated different creative writing strategies.
"Make it a habit to write everyday," Dillard advised the students. "Even if it's only for five minutes a day to read over your work or brainstorm."
Like other hobbies, poetry takes practice. Just like one would go to a football or soccer practice, they'll have to set aside some time in order to improve upon writing.
While the poets taught self-expression, the authors taught the value in hard work and pursuing even after failure. Stacey Kade, the author of "For This Life Only" and many other books, discussed how she started out writing.
She talked about the purpose of a "s—– first draft" and the function it can provide. The hardest part of being an author, she explained, is learning to let yourself fail in order to grow.
Cary-Grove's third Writer's Day proved to be a hit among not just those attending, but also the visiting presenters.
"I was blown away at the things [students] were writing about," Dillard said during a poetry workshop. "I was writing about stupid stuff at their age. It really shows the maturity that some of these kids have."
These individuals, loud or quiet, bold or shy, funny or serious, all stood for what it meant to be a student at Cary-Grove. They brought light to topics that are often shoved in the closet, and were able to express their creative works freely. As audience members sat in their seats, many were inspired to stand up on the stage in the years ahead.