The brave and the bald
We asked the four teachers who are daring to have their heads shaved four questions about their locks:
What's the worst hairstyle you've ever had? Do you have a picture of it?
Why are you doing St. Baldrick's? Do you have a personal connection or any special reason?
What does your wife think about your decision?
What are you most worried about if you have to shave your head?
Be sure to donate money to the carton of whichever teacher or student you want to see shorn at the pep rally!
Mr. Neff
1. In the late 80's, I had a mullet that looked something like this (picture below):
2. I'm organizing the St. Baldrick's event because Sarge approached Student Council and said he's always wanted us to do one. So, we're doing one! I know C-G will come through to support pediatric cancer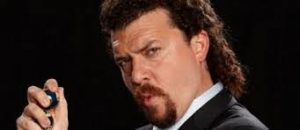 research.
3. My wife doesn't care what I do to my hair, as long as I keep the beard. Seriously.
4. I've never seen my own scalp, so what if it has birth marks that look like a treasure map?
Mr. Hawley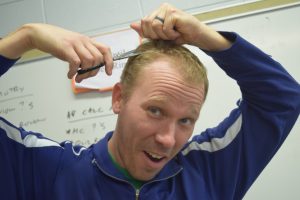 Worst hairstyle:  The infamous mullet when I was in elementary school
Why:  I think there can never be enough funding for cancer research.  Most people know someone who has experienced this horrible disease and hopefully we can find a cure.  If I can raise even a small amount, I hope that it can help.
My wife:  She doesn't care and hopes to see me bald.
Worried:  Having a cold head.
Mr. Sargeant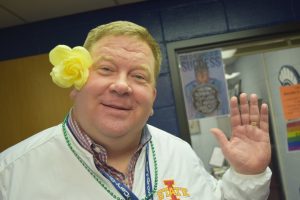 Worst hairstyle..a really bad 80's part down the middle, borderline mullet (probably too short in the back to truly be a mullet).  Yes, I'm sure I have a picture somewhere…and no, you can't have it.
Why? Simple…our students are behind this event for a great cause.  I'm supporting our kids and the cause.
Wife's thoughts:  She hopes that I'm not the winner, but saw me with my psuedo-mullet back in the day…it can't be any worse, right?
Worried:  1) It will expose my lobotomy scars!  2) I'm also old enough to be concerned that it won't grow back at all!
Mr. Garis
1. Worst hair style—Freshmen year when I let my buddy Dave (a die hard Sox fan, no less) give me a cut right before class pictures.  He was laughing the whole time he was cutting.  Cubs Fans should never let Sox Fans cut their hair.
2. I'm doing St. Baldrick's mainly to honor my Dad who died of cancer in February of 2015.  He did so much for me to become who I am, and this is the least I can do to honor those who have battled this ugly disease.
3. Mindy thinks it's great!!
4. I'm not worried about it at all.  It grows back, correct?  I'm just glad I'm not going anywhere warm over break.  A sunburned bald head doesn't sound like fun!