Mature 'Evita' stretches students
The C-G stage is coming to life once again.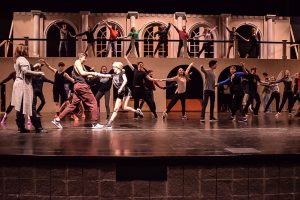 However, instead of 25 people and Mrs. Whalen enchanting you with mermaids and Peter Pan, it's half of the school stressing over rhythms and wigs. That's right, it's musical season.
After last year's magic pumpkin-sized success with Rodgers and Hammerstein's Cinderella, the drama department is hanging up their comedic fairy tale hats and putting on their big girl shoes with the romantic adrenaline rush of Eva Peron's rags-to-riches story.
Evita is a show unlike anything Cary-Grove has done before. Sung from the curtain rising to the final bow, and enhanced by rich Argentinean history, Evita is more dramatic and mature than 9 to 5, Anything Goes, and Cinderella combined. With bone-chilling arias and electrifying choral numbers, Evita is going to leave audiences thinking about it for weeks to follow.
"You won't see another high school doing an opera about the life of Eva Peron," director Mr. Boncosky said. "It's a challenge, but nothing hard-working Cary-Grove students can't handle. It's an incredibly difficult show both for leads and ensemble, and looking at all of our students in the program, we wanted to give something to stretch them."
But the show is not just about the actors. Where would the cast be without the incredible makeup, tech, wigs, and costume crew, as well as the pit orchestra, not to mention the teachers who are putting in hours to see this show thrive?
"We're not trying to win any awards or become the pride of the district. We're doing this for ourselves, to prove that we can take this, little by little," said Allison Drage, a freshman in the ensemble.
With that attitude, the cast works hours upon hours to ensure they give the audience a good show. It's not easy, but it's worth it when you see the curtain rise on 70 high schoolers giving everything they have.
Showing on March 10, 11, 12, 16, 17, and 18, Evita is not a show to be missed. Students can receive one free ticket with an activity pass during lunch periods on February 22.