C-G senior streaming on Spotify
Spotify has some of the best artists around and the newest music. With its popularity and credibility, you may think that only the top artists will get their new singles on this site, but you would be wrong.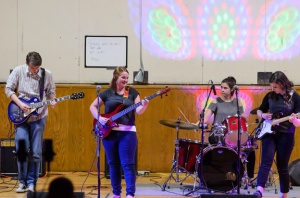 One C-G student, senior Megin Budacki, has managed to get not one, but two of her singles onto Spotify. With talent, perseverance, and a little bit of pocket cash, Budacki has gotten herself into the exciting world of the music industry.
Budacki has had a long evolution through musicianship. When she was six, she started taking piano lessons and continued until the age of 11. When she was in 5th grade, she started playing flute. Sixth grade was the year that she decided she had a passion for singing. In 7th grade, she picked up a guitar.
Now, you can find Budacki still playing all these instruments, as well as the bass guitar and ukulele. She never took a lesson for flute, bass, or ukulele, yet is still phenomenal at all of these instruments.
Going into highschool, Budacki was nervous.
"I was always a really shy kid," Budacki said. Yet, she made sure to join lots of activities, including band and choir. Budacki has been a part of A Cappella and Jazz Choir for two years now. She is also the first chair flute player in the Wind Symphony and Morning Band Ensemble, which had the privilege of going to a statewide showcase this year.
Budacki says that she is inspired by all different genres of music; her parents were the ones to introduce her into many of these genres. Some of the most influential artists to her are Panic! At The Disco, Jack White, The White Stripes, and the Beach Boys.
Budacki had always been into poetry and all of these bands that influenced her seemed to write more poetic lyrics to their songs. After listening to these bands for years, Budacki had a realization: "I could incorporate my poetry into music," she said. This started Budacki in writing original songs.
A few years back, Budacki decided to start up a band with her friends. She was not only inspired by famous bands, but also music teachers who encouraged her potential and local bands that she has seen grow to success.
Her first band, called One Step Forward, consists of Stephen DiCicco, Emily Schladt, and Erin O'Malley. Although Budacki and Schladt are the only remaining original members of the band, the addition of these new members only made the band better.
After realizing that the band had real potential, they started to get more serious about their music. Occasionally, One Step Forward will be seen playing at local events, like the Fox River Grove fireworks.
This isn't Budacki's only band. After the success of One Step Forward, she and DiCicco began playing with Colin Durlacher and Joe Ivarson in a band they call Echo.
Not only is Budacki a talented musician, but she also excels at other extracurriculars.
"I really like math. I also really like designing," she said. She is a part of the senior portfolio class, and recently had some of her artwork showcased in Senior Hall.
Budacki has been a part of the CG Math team for 2 years now. This year, she and her partner Jacob Limpus won the first place in the Oral Competition at regionals, sending them down to the State competition in just a few weeks.
Although Budacki's interests seem to be vastly different, she has figured out a way to put them all together. Budacki aspires to be an audio engineer.
This role is the person who sits behind the studio glass and uses their knowledge of math and music as well as their own creativity to produce music. Audio engineers will also work the microphones at live shows, making sure the sound stays balanced and is always at its best.
Budacki isn't positive if this will be the direction she will go in for sure. After being recently accepted into University of Illinois at Urbana-Champaign, though, Budacki has a lot of opportunity for the future.
Budacki has an exciting road laid out ahead of her. "It's A Trap", her newest single on Spotify, already has over 9,000 listens. Her inspiration for the song is quite unique as well.
"I didn't mean to write it," Budacki said. She started messing around with chords on her guitar and added in words that rhymed. Although this is seemingly simple, many of Budacki's fans are finding their own meaning in her song.
Budacki has spent her own money recording and publishing her song, but for every time her song plays on Spotify, Budacki gets .006 cents. If you want to support Budacki, she and some of her fans suggest playing her songs on loop during the night. Would this be manipulating the system? Somewhat. Would this be helping an extremely talented and underrated artist achieve her dreams? Of course!