Sophomore breaks new ground in Color Guard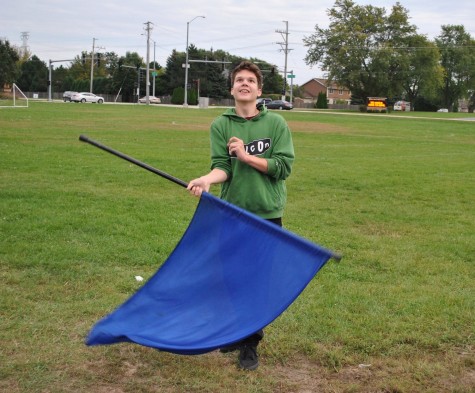 Jessica Bender
Chandler Taylor is a sophomore at Cary-Grove. He is a member of the wrestling team and yearbook club, but Taylor is on another team that might surprise many people. He is the first male member of the Color Guard.
A few questions might come to mind when thinking about a male color guard on an all-female team. The most pressing of these questions is "Why?" Why would he join a team of girls?
Taylor knew the captains of the Color Guard, Daisy Wenc and Maddie Cote, his freshman year of high school. After going to all the home football games in 2014 and his friends raving about their own experience, his interest in flag spinning peaked.
"I started messing around with the flag and it was fun and interesting," Taylor told me.
Obviously, the team needed to make a few changes to accommodate Chandler.
The Color Guard had to piece together a new uniform for him made out of different parts of the girls' uniform. The team also had to make a few changes to their routines; certain moves were made less feminine and Taylor was given a feature toss in some routines.
Although the whole team has input on how the routines should look, Taylor says his opinion is more weighted because he is the only guy on the team.
"I think I can add a little more style or variety to it because I think a little bit differently," Taylor said.
Taylor said that his favorite part of flags is "tossing the flag […] meeting new people and doing something for the school."
At the games, Taylor says he gets a different experience than the other members on the team. Because he is the only male on the team, the super fans have learned his name.
"When most people hear cheering," Taylor says, "I hear my name being yelled."
Another question that might come up is "What does this mean for CG clubs?" Well, this could mean more equality in the sports and activities of Cary-Grove. There are more boys who are interested in joining the flag team after seeing Taylor's confidence on the field.
"I feel like if a girl wants to be on the same team as all the guys or a guy wants to be on the same team as all the girls, it should happen," Taylor said.
So what is the next step for Cary-Grove? Could Chandler Taylor possibly inspire generations of C-G students to step out of their comfort zones?