For classic thrills, binge Hitch this summer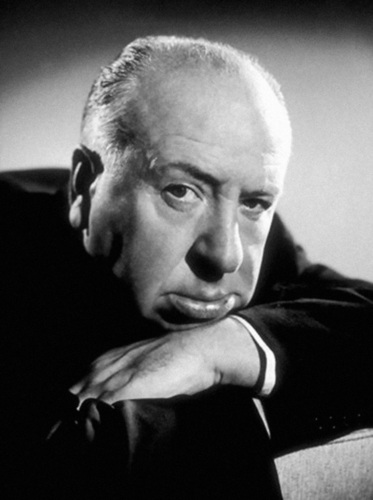 Alfred Hitchcock was both a movie director as well as the director of his very own TV series. He was known as "The Master of Suspense" and directed more than fifty feature films over the span of his career. Here are 10 movies to watch that will convince you of his greatness and skill in directing:
Rear Window

(1954)
This flick stars Jimmy Stewart and Grace Kelly, and is one of my most favorite Alfred Hitchcock films. Stewart plays Jeff, a wheelchair-bound photographer with a broken leg whose hobby is observing his neighbors from his apartment window. He eventually grows to suspect that one has committed a murder, but struggles to get police involved. His lover Lisa, played by Grace Kelly, doubts his suspicions, but decides to help him try to get the police to believe him. Is the murder real or purely paranoia? Give it a watch to find out!
Spellbound

(1945)
Spellbound is the story of psychiatrist Dr. Constance Peterson, played by Ingrid Bergman. She struggles at her job at Green Manors, a mental institute, as she is the only woman who works there. When handsome new staff member Dr. Anthony Edwardes, played by Gregory Peck, arrives, it may be love. But before long, she realizes that he is not quite normal, and together they realize that he is not Dr. Edwardes, but amnesia patient John Ballantine who was made to take on the identity of the real Dr. Edwardes. Together they embark on a journey to discover the truth about the disappearance of the doctor.
Psycho

(1960)
Psycho is probably the most quintessential out of all Hitchcock movies. Starring Anthony Perkins, Janet Leigh, Vera Miles, and John Gavin, Psycho has all a thrill seeker could ask for. In this film, Marion Crane, after stealing a large sum of money from her employer and taking off, stops to stay at the Bates Motel, which is run by lonely Norman Bates and his mother, who lives in a sinister-looking house. No matter what happens in this film, mysterious and mad Mrs. Bates does whatever it takes to control her family as well as the Bates Motel.
North by Northwest

(1959)
Starring Cary Grant and Eva Marie Saint, North by Northwest follows advertising executive Roger Thornhill, played by Grant, who is mistaken by spies for a man named George Caplan. After being framed for murder and running from the police, Thornhill boards a train to Chicago and meets Eve Kendall, played by Saint. Kendall helps Thornhill make a getaway, and whilst falling in love with her, he later learns that she has a backstory of her own. Their journey takes them on a misadventure across the country. Filled with thrills and romance, North by Northwest is a must-see!
Dial M for Murder

(1954)
Dial M for Murder is the classic crime of passion. Hitchcock's sweetheart Grace Kelly plays Margot, an heiress unhappy in her marriage, and Ray Milland plays her jealous husband, Tony Wendice. When he correctly suspects that his wife is having an affair with a handsome young man, he tracks down an old college friend and coerces him into planning the murder of his wife, which he agrees to. The plan is so airtight that nothing could go wrong. As Wendice goes out for a night of gambling, Margot is left alone. Will he be caught, or is this the perfect crime?
Rope

(1948)
If you have ever read Crime and Punishment, Rope is a must-see.The film opens with college students Phillip and Brandon strangling someone to death. In celebration of the deed they had "accomplished," the two throw a party for friends and a former professor, Rupert Cadell (played by Jimmy Stewart), while their victim's body still remains in the very room in which they drink champagne and laugh. They later on bring up the concept of justified murder reminiscent of Dostoevsky's ordinary vs. extraordinary man concept, as Cadell says "After all, murder is–or should be–an art…and, as such, the privilege of committing it should be reserved for those few who are really superior individuals." This movie is a chilling look at two cold-blooded murderers–the mystery is in whether or not they can get away with it.
The Birds

(1963)
The Birds is Hitchcock's take on some fowl play. In this movie, Tippi Hedren plays San Francisco socialite Melanie Daniels, a wealthy, flirtatious woman. She journeys to Bodega Bay, a quiet town on the coast of California, to prank and get the attention of Mitch Brenner (played by Rod Tayler), a man she had recently been acquainted with at a pet store. When she arrives, a seagull swoops down and gashes her forehead. While this seems strange, things just get weirder and more life-threatening as the birds in the area get more vicious, and bodies begin appearing. Watch this unsettling flick to find out whether Melanie can escape the talons of her enemies.
Vertigo

(1958)
If you are afraid of heights, this one's for you. Vertigo also stars Jimmy Stewart, as John "Scottie" Ferguson, a police detective who suffers from acrophobia and a haunting career. While he is reluctant to begin working again after a chilling incident on the job, he takes up a job offered by an old friend to tail his wife Madeleine, whom he suspects is possessed. After observing some extremely odd behavior and a suicide attempt, Ferguson becomes intrigued by Madeleine, almost to the point of obsession. Not only do we wonder what is wrong with Madeleine and why she is the way she is, but whether Ferguson will ever be free from her trance.
Rebecca

(1940)
Laurence Olivier and Joan Fontaine give stunning Oscar-nominated performances in Rebecca. In fact, while this is the first film Hitchcock made in Hollywood, it is his only film to win an Oscar for Best Picture. In this film, the de Winters are a newly married couple. Mrs. de Winter, played by Fontaine, is doubtful of her marriage with her husband, played by Olivier in the face of his deceased first wife. When a sunken ship is discovered on the English coast where they live, and the body of the former Mrs. de Winter is discovered, Mr. de Winter admits he had previously misidentified her body. Suspicions about her death circulate, but Mrs. de Winter rises to the occasion as she supports her husband through accusations of murder.
Comparatively lighthearted to the rest of Hitchcock's films, To Catch a Thief stars Hitchcock regulars Cary Grant and Grace Kelly. Grant plays retired serial jewel thief John Robie, better known as "The Cat" who is blamed for another string of burglaries. He befriends Jessie and Francie Stevens (played by Grace Kelly), who own some of the most expensive jewels in the French Riviera. Together they devise a plan to entrap the true thief, but not without some romance along the way.
These 10 films not only capture some of Hitchcock's best work, but are a great look at the movie magic and acting talent of retro Hollywood. No matter who you are, there is something that intrigues us about suspense and psychological thrill. As Hitchcock himself once said "I think everyone enjoys a nice murder, provided he is not the victim." While you watch don't forget to look for his signature cameo!