Two C-G gymnasts among nation's best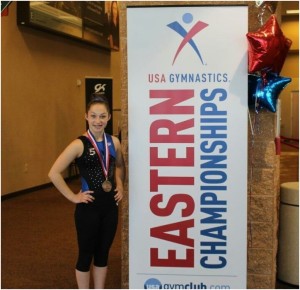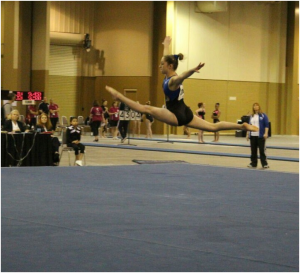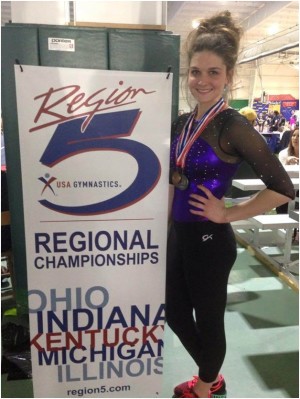 Rachael Underwood is a level ten gymnast and a two time national qualifier, she is a senior here at Cary-Grove High School. Rachael has also won state all-around and third all-around at regionals. Nikki Barrs, a sophomore at Cary-Grove High School, is a level nine gymnast and won third place at Eastern Nationals in the all around. Nikki also won fourth on vault, twelfth on bars, second on beam, and second on floor at the level nine Eastern national meet. They took some time out of their busy schedules to talk to the Trojan Times about their experience competing in gymnastics.
Q: What does your typical day or week look like?
Underwood: "During the school year, I wake up, go to school, then go straight to gymnastics from 3-7, then come home, eat dinner, do homework, then go to bed. In the summer, I wake up and go to practice from 8am-12. I devote most of my time to practicing. I practice 20 hours a week and you have to be dedicated. Dedication is key. Without it, I would have no motivation to go back to the gym everyday. You also have to have a great support system and LOVE what you are doing. Set goals for yourself, and never give up!"
Q: What is your best memory from competing in gymnastics?
Underwood: "My most exciting memory is going to Nationals for club gymnastics. I went to Jackson, Mississippi, my junior year and Des Moines, Iowa, my senior year. I got to room with the other girls on the team and practice with them. I competed against some of the best girls in the nation and the atmosphere was amazing. I got a good feel of what college gymnastics would be like. It was such an honor to be there and the only thought running through my head was, 'Just have fun!' There was no pressure because I had made it the farthest I could go. It was the last meet of my season and I just wanted to enjoy the amazing experience I was given."
Baars: "My most exciting moment was this year at the level nine regionals. I was nervous but also very excited. As soon as the meet started I knew I had the meet and could make Eastern Nationals"
Q: What is your favorite part of gymnastics?
Underwood: "What I love most about gymnastics is learning new skills and practicing. I don't love competing as much, but the other thing I do love is the team aspect of gymnastics and everybody cheering me on. My teammates are great motivators and I honestly couldn't do it without them. I am really looking forward to college gymnastics and being a part of such an amazing experience that I will remember the rest if my life. Knowing that I only have about 4 more years left of this sport, I want to soak in every moment of it that I can."
Q: What was your greatest challenge or setback in gymnastics?
Baars: "I broke my foot on floor at a meet. I finished competing my last two events, vault and bars. I ended up winning vault with a broken foot, but that put me out of gymnastics for two weeks. I also smashed my hand in the weight circuit room at school. I had one stitch on the outside and two stitches in the inside. I couldn't put any pressure on my hand for a month."
Underwood: "I have been very fortunate to not have any major injuries to set me back. I am very lucky to be healthy and I don't take it for granted."
Q: What are your plans for the future in the sport?
Underwood: "I have already accomplished my number one goal, which was to get a gymnastics scholarship. So now that I have gotten a scholarship to Western Michigan University, I want to go there and just do the best I can do. Everyone has been telling me that the best gymnastics I do will be in college, so I want to live up to the standard."
Baars: "I want to become a good level 10 gymnast and get a full ride gymnastics scholarship."
Q: If you weren't involved in gymnastics, what would you do differently?
Underwood: "Honestly, I wouldn't know what to do with myself if I didn't do gymnastics. I would have too much free time and be so bored. One thing I do have to give up frequently is taking vacations. While all my friends are off on spring break, I am usually stuck here in Illinois practicing away. I can't think of any hobbies that I have had to give up because gymnastics has been pretty much my whole life since I was little."
Baars: "I sometimes wish I had more time with my school friends but mostly I just wish I could be in the gym more because gymnastics is what I love to do and I wouldn't want to do anything else."