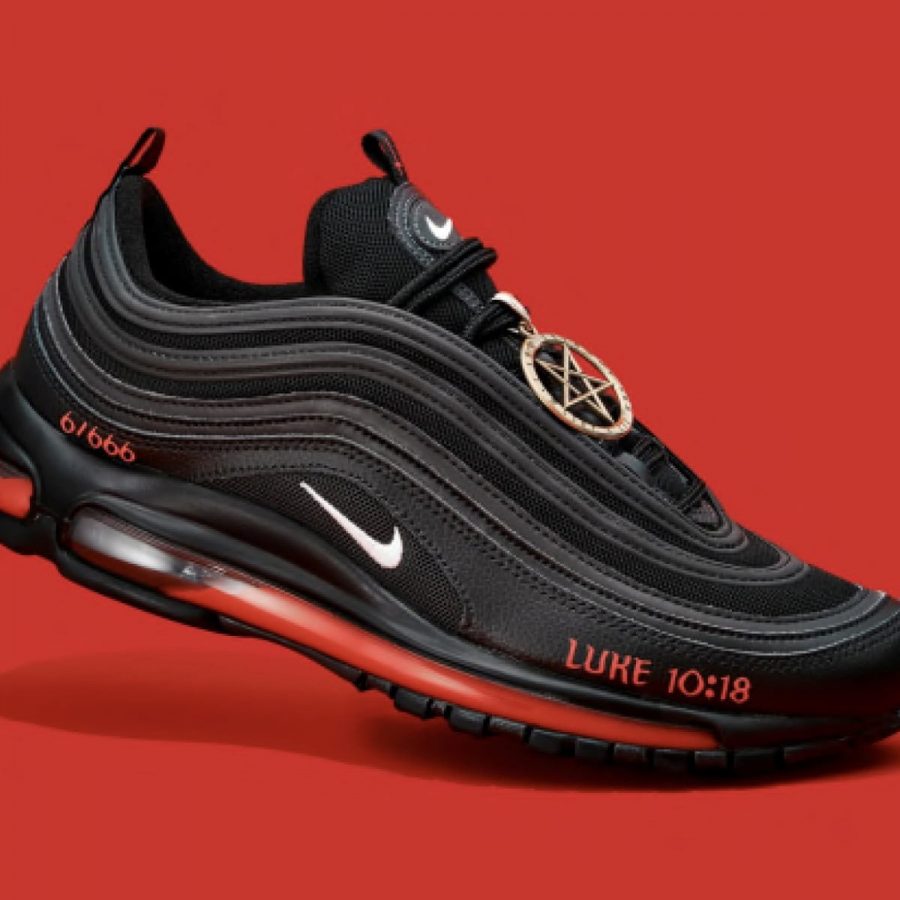 In late March of this year, Lil Nas X came out with his undoubtedly most controversial song called "Montero (Call Me By Your Name)."
The song was praised for being a brilliant reflection of what it is like to be religious while being part of the LGBTQ+ community. It also received a lot of backlash for promoting sexual imagery along with anti-Christian messages. 
In addition to the song's release, Lil Nas X collaborated with MSCHF Product Studio to create 'Satan shoes' to promote his song. The satanic sneakers had sold out all 666 pairs in under a minute costing $1,018 each.
If you hadn't noticed from the picture of the sneaker above, the price of the shoe was no coincidence. As I mentioned earlier, each pair costs $1,018. 'Luke 10:18' is featured on the shoe and references the famous biblical verse stating, "I saw Satan fall like lightning from Heaven."
The passage comes from the tenth chapter of Luke's Gospel in the New Testament. It alludes to Jesus witnessing Lucifer Morningstar (Satan) fall from Heaven after being cast out by God.
The custom shoe design is a Nike Air Max 97 with a pentagram attached to the laces. MSCHF claims that they have injected a drop of real human blood into the sole cushions of the shoes. The shoes showcase the familiar Nike 'swoosh' symbol on the sides of the shoe, the soles, and on the tongue, but don't let that mislead you.
Nike has made it very clear on multiple occasions that they are in no way, shape, or form affiliated with the sneaker despite the use of their symbol and original shoe design.
If that wasn't already a lot to take in, Nike has decided to take legal action against the Brooklyn-based company for their use of the iconic 'swoosh' on the sneakers. 
Nike was suing for a trademark violation after the modified Nike Air Max 97s sparked an outrage on social media. People were even suggesting a Nike boycott which the innovative footwear company wanted to avoid.
A settlement was reached between MSCHF and Nike when the judge granted a short term order to terminate all current and future Satan shoe orders. In addition to recalling the sneakers, the American art studio had to provide a "buyback" policy on their notorious Jesus shoes from 2019.
"It (Satan shoes) has already achieved its artistic purpose," remarked MSCHF attorney David H. Bernstein. When they were released at the end of March this year, they gained a lot of press from the public and the media. As the famous saying goes, "there's no such thing as bad publicity."
That phrase essentially sums up this entire situation. After the shoes got a lot of media attention (good and bad), they made a ton of money and Lil Nas X's song grew in popularity. It even debuted at #1 on the Billboard Hot 100 whether it was directly caused by the sneaker's release or not.
Even though the Nike lawsuit probably set the company back financially, it helped propel their artistic masterpiece into the eyes of the public. If you hadn't heard of MSCHF until now, then they have proved their point.
Coming out with a reimagined version of Nike sneakers for the second time was a risky gamble for MSCHF, but it seems to have paid off in the grand scheme of things. Earning all of that publicity is definitely going to make the public curious and eager for what's to come regarding this art company's next project.
MSCHF could even get more opportunities to work with other artists after all of their success with the Satan shoes.
All in all, I would say that this project was what I would call a successful trainwreck. It wasn't perfect by any means, but in the end, it introduced a new concept of what we as a society think is outrageous and bizarre. It certainly made people think twice about representation regarding equality and the inclusion of those who feel like they cannot truly be themselves.